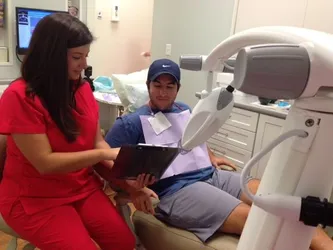 Zoom! Is a tooth whitening product that allows you to transform the coloration of your teeth to a lighter shade in about an hour. This procedure usually whitens your teeth about 6-10 shades lighter than what your teeth were prior to Zoom! Whitening.
After completing Zoom! Whitening, you will need to perform at home teeth bleaching in order to keep your teeth at optimum whiteness. We will provide you with custom trays and bleach to take home at your Zoom! Whitening appointment.
Are you a candidate for Zoom! Whitening? Call us today at 251-621-1301 to schedule an exam to see if you can whiten your smile with Zoom! Whitening.