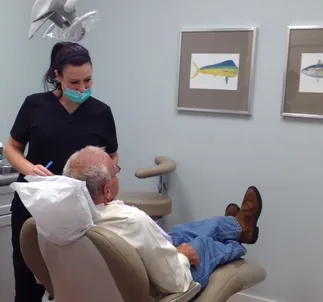 Dental Implants In Daphne, AL
About Dental Implants
Dental Implants can be used to replace one or more missing teeth. Implants are used as anchors to support crowns, bridges or dentures. The most common use of dental implants are for single tooth replacement. In the case of replacing only one tooth, implants can be a better treatment choice than a bridge because nearby teeth do not have to be altered in any way.
How Do Dental Implants Work?
Dental implants are designed to serve the same purpose as the root of a tooth. They are small titanium devices that resemble screws that are inserted into the bone tissue below the gumline. When the implant heals into the bone, which may take several months, an abutment and permanent crown are placed on the top. With a porcelain or ceramic crown, the implanted tooth is indistinguishable from your other teeth.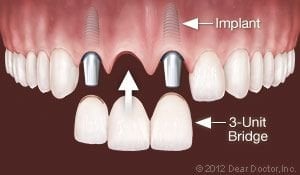 Replace Multiple Teeth — When you have more than one tooth missing, implants provide an ideal replacement mechanism. You don't even need one implant for every missing tooth. Instead, implant teeth can act as supports for fixed bridgework. For example, if you are missing three teeth in a row, we can place two implants, one on either side of the gap, and a crown in between that has no implant underneath. That way, you won't need to use any of your remaining natural teeth as bridge supports, which could weaken them and make them more susceptible to decay.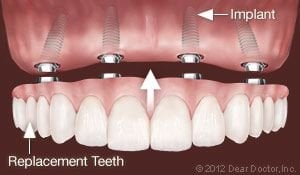 Replace All Teeth Permanently — Implants can support an entire arch of upper or lower replacement teeth that are fixed into the mouth and are never removed. Sometimes the new teeth can be supported by as few as 4 implants. It's comparable to the structure of a table, which only needs 4 legs to hold it up. In cases where jawbone density and volume have deteriorated, 5 or 6 implants might be needed to support a row of 10 to 12 teeth. Dental implant replacement teeth protect your jawbone, won't slip, and should last a lifetime.
After a consult with one of our implant surgeons, they will determine the proper type of implant and surgical procedure that is needed to ensure a long-lasting implant. After the implant is placed, it will take approximately 3-6 months for the site to heal properly. During this time, the jaw bone will heal around the implant and adhere to it in a process called osseointegration. While osseointegration is occurring, it is sometimes possible to place a temporary crown on top of the implant that will allow you to comfortably smile without being conscience of an open space in your mouth. After it has been determined that the area has healed properly, the final steps of producing a final restoration can be completed. A piece called an "abutment" is screwed onto the implant and a crown is made to fit the abutment. The crown is then cemented onto the abutment and will look and function as your natural tooth once did.

Dental implants can also be used to support bridges for long spans of open space due to missing teeth. They can also used to stabilize dentures, and can especially be useful to stabilize lower dentures in patients that have lower dentures that move freely in their mouth.
Are You Missing Teeth And In Need Of Dental Implants? Southern Dentistry In Daphne, AL Can Help!
Call 251-621-1301 Today To Inquire On Your Next Appointment.